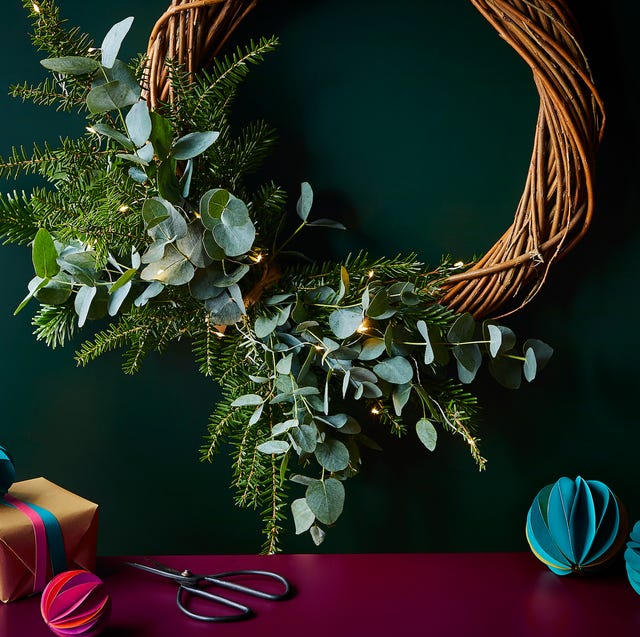 Waitrose
Waitrose's Christmas 2021 collection for the home includes beautiful bouquets, a DIY wreath kit and charity baubles.
Following on from its sister brand, John Lewis' Christmas decoration themes, now is the typical time for retailers to preview their festive collections, and the interest in Christmas has already begun.
Anni Ludhra-Gent, Waitrose Christmas Brand Manager, comments: 'Christmas is a really important time of year for our customers and they love to start planning months in advance, with searches on waitrose.com for panettones and Christmas puddings having already begun.'
Of course, Waitrose is known for its food at Christmas (which this year includes everything from Bloody Margaret Prawn Cocktails to Vegan No Lobster Marie Rose Roll), but here we're shining a light on Waitrose's Christmas decorations and gifts. Enjoy a sneak peek below.
Advertisement – Continue Reading Below
1
Make Your Own Door Wreath
Nothing beats kerb appeal at Christmas time. Deck out your front door in style with your very own door wreath. This DIY kit contains a willow wreath, festive foliage and lights, along with instructions.
2
Light-up House Orchid Terrarium
This gold-coloured terrarium contains a mini orchid and foliage plants, along with decorative string lights. It's the perfect Christmas centrepiece and it's at the top of our wish list!
3
Charity Baubles
Give back this Christmas with these charity baubles.
The Advent of Change charity tree decoration (left) is an iridescent bauble featuring a subtle embellished star design with 10 distinctive shapes. Each one represents a charity supported by the purchase (the corresponding charity can be found on the box).
The Charity Heart Rainbow Bauble (right) features a bright rainbow heart, the symbol of support for NHS workers. 25 per cent from the sale of this bauble goes to the charity NHS Charities Together supporting NHS staff and volunteers caring for Covid-19 patients.
4
No. 1 Luxury Crackers
Last year Waitrose removed all plastic from its Christmas crackers and filled them with gifts made from recyclable materials. This year they've filled them with edible gifts.
Not only can you line these crackers up as table place settings but there's a mini bar of No.1 single origin chocolate in every cracker.
'Our No.1 crackers contain mini bars of No.1 Single Origin Dark or Milk Chocolate – so as well as looking super-stylish on the dinner table, they also contain a delicious surprise for your guests. They're just one of the gorgeous chocolate treats in our festive range this year,' say Waitrose.
5
River Copper Bauble Wreath
A Christmas wreath isn't just for the front door. You could place it in your hallway or use it as a table centrepiece.
'Copper will continue to be a big colour trend this Christmas thanks to its warming qualities and autumnal vibe,' say Waitrose.
6
Red Christmas
'With the hope that we'll be able to host loved ones this Christmas, many of us will be looking to dress our homes even more beautifully over the festive season,' says Chris Wood, Partner & Flower Product Developer. 'Flowers are the perfect way to add vibrancy. Our Red Christmas bouquet is a classic, with red roses and luscious textural foliage – it also includes these stunning roses with unique red and cream stripes. It would make a wonderful addition to your Christmas decor.'
7
No. 1 Christmas Bouquet
Alternatively, ditch traditional festive reds and welcome shades of pink with this Christmas bouquet. Here, burgundy cymbidium orchids are combined with premium red lilac and cerise roses, soft gold asparagus fern and scented foliages.
8
Blue Dinosaur and Pink Pom-Pom Dinosaur
Kids will love these dinosaur-themed felt Christmas tree decorations.
9
Cat and Novelty Mouse
This cat and mouse felt Christmas tree decoration is equally adorable.
10
Supernature Rainbow Bauble Wreath
If you can't be bold with decorating during Christmas, then when can you be? 'This eye-catching, rainbow-coloured shatterproof bauble wreath will be a firm family favourite,' say Waitrose.
11
Pinecone Hedgehog
If you want your Christmas tree to reflect the wildlife and great outdoors, opt for this pinecone hedgehog bauble.
12
Christmas Abundance Postal Box
Post some flowers to a loved one with these beautiful Christmas blooms. It features an abundance of red and purple festive flowers and scented foliages – there's even a step-by-step guide on how to arrange them to look their best.
13
Coast Champagne Glitter Pinecone Wreath
Another wreath being stocked by Waitrose this year is this champagne pinecone wreath. 'Champagne is a hugely popular colour thanks to its soft, neutral tones, with added sparkle just for Christmas,' explain Waitrose.
14
No.1 Christmas Scented Jewel Gift Bag
Looking for a gift idea? This is a beautiful mix of scented, soft pink O'Hara roses and premium red roses with festive scented foliage, presented in a No.1 gift bag. It'd also make a wonderful coffee table centrepiece.
This content is created and maintained by a third party, and imported onto this page to help users provide their email addresses. You may be able to find more information about this and similar content at piano.io
Advertisement – Continue Reading Below