Blame it on the COVID-19 pandemic.
Just as victory gardens and sourdough boules have proliferated in the past year, homes painted inky black have also sprouted up across the landscape. And while black houses have been a hot trend in edgy urban areas for years, it's now also happening in the hinterlands as these city slickers flee to the suburbs.
"Black exteriors feel edgy or like Brooklyn— and they're the homeowner's imprimatur on their newfound suburban dwelling," says Debra Kling, a professional color consultant, who calls these dark abodes "a sign that someone chill is moving in."
But black may not be everything it's cracked up to be. Before you slap this dark hue on your house—or even in a room—here's what you should know about the pros and cons of black paint.
Where black paint looks best
Some real estate agents say that, despite its dark, stark look, black houses look highly stylish and can create some unique curb appeal.
"Modern houses in shades of black with gray, green, or orange accents really pop, which makes them stand out—and that's what curb appeal is all about," says Cedric Stewart, a real estate agent with Keller Williams in Washington, DC.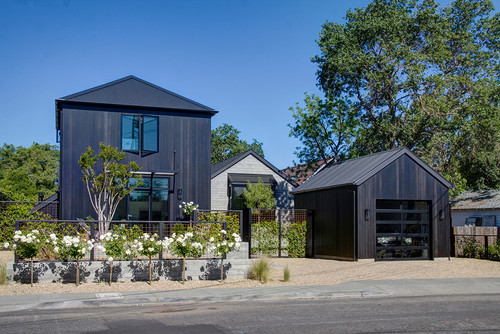 Photo by a.d.d. concept + design
Location and materials are two big factors that influence black paint's success.
"Black barns look stunning in a pastoral setting, as do low-lying modern homes with lots of glass," says Kling.
But when you insist on black for certain house styles, it can often fail.
"Black does not work on an exterior when it looks forced, as when the architecture really doesn't call for it," Kling adds. So, a pretty Victorian in black? Not so fast.
In fact, sometimes darker shades are better off in a supporting role.
"Black paint can be impactful on the front door, garage, or window trim, and inside it's a stylish backdrop when used on open cabinets or exposed shelving," says Amy Donato, a senior color marketing manager at PPG.
Where black works in an interior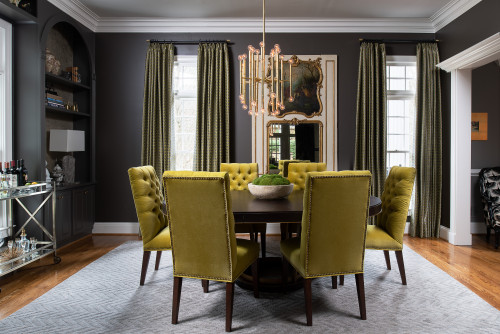 Photo by Rothman+Rothman Design 
It may seem counterintuitive, but black and other dark hues are smart picks for small rooms and low ceilings.
"Black plays tricks on your eyes, making the walls or ceiling recede and giving the illusion of a larger room," says Sue Kim, color marketing manager at Valspar.
Kling loves a dining room with waist-high white wainscoting and black walls and/or a black ceiling. Or try a room with a dark ceiling and richly colored floral wallpaper. And while you don't see it very much, the color pros rave about black kitchens.
"Consider painting your upper kitchen cabinets bright white and the bottom ones dark black to create a modern two-toned color scheme," says Donato.
And when black is paired with gold or brass finishes, it can even make an upscale sophisticated statement in bathrooms, she adds.
The downsides of black paint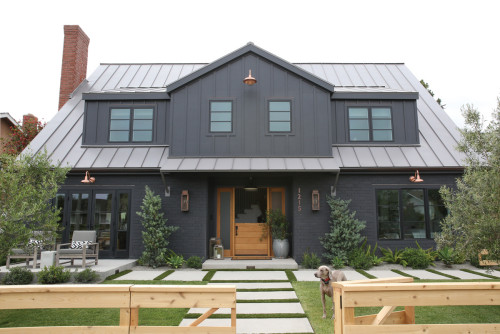 Photo by Milgard Windows & Doors
There's a reason beach cottages are almost universally painted white or pretty pastel shades. Light surfaces reflect back lots of light—and heat—but black and other dark colors on the opposite end of the spectrum have low light reflectance value.
"Black absorbs sunlight, making AC systems work harder to keep interior spaces cool in a warm region or anywhere during the hot summer months," says Kling.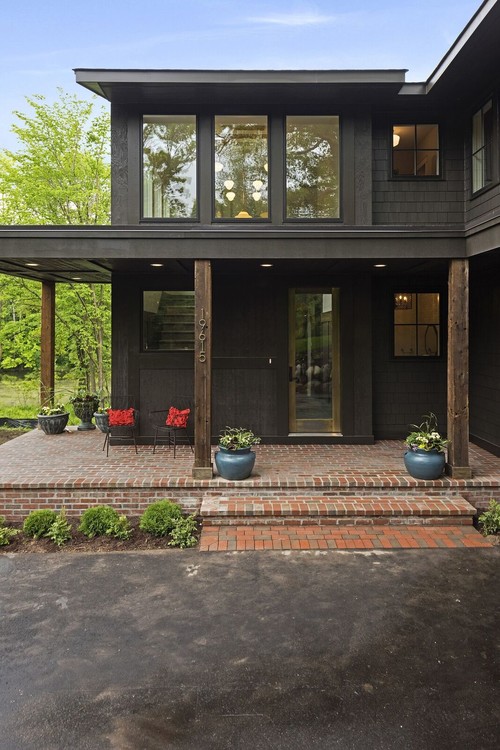 Have siding, decking, or other composites? Painting them black can cause swelling and warping, warns Kling. And dark colors in general may be prone to fading. (But Kling notes that red fades fastest of all.)
To avoid this situation, keep in mind that quality exterior paint is worth every penny "for the longevity of the finish and for year-round resistance to cracking and peeling," says Kim.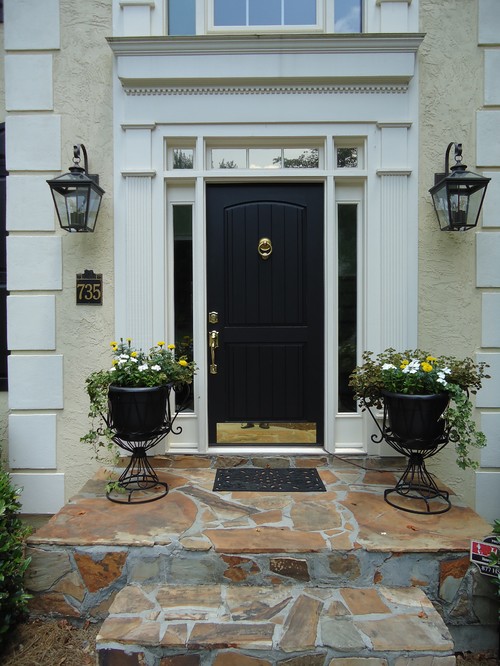 Not sure whether to pick a glossy or matte sheen? Use and location are your best guides.
"Put semigloss where durability is needed, like on trim and doors, and eggshell or satin for medium traffic spots or where you'd like scuff resistance," say Kim.
"A tall, glossy black front door is very Downing Street-style, while inside, matte black looks more convincing as it resembles iron or metal," says Kling.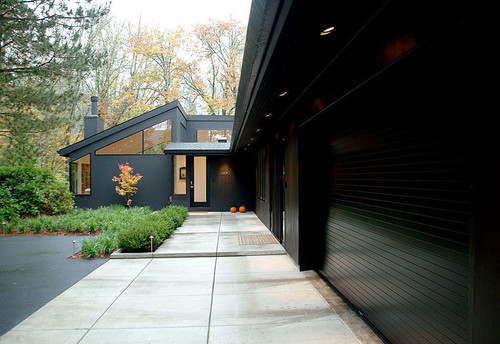 Photo by Giulietti Schouten Weber Architects 
If you're selling your home soon, it's ultimately wise to think about your potential market of buyers and whether they'll dig this dark hue. Some will thrill to your dark siding, while others may not, so ask your real estate agent whether a black house will work for or against you when it comes to a sale.