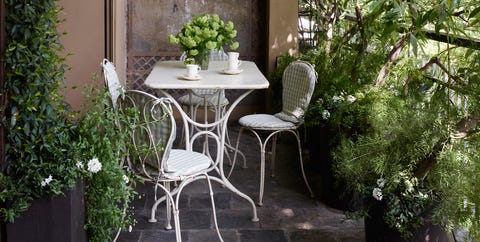 Simon Upton
Now that the temperature is rising and the sun is staying out longer, it's finally time to make the most of your balcony. For years, an outdoor space was a nice perk but not exactly a necessity. But after spending an unprecedented time inside, a private dose of Mother Nature is the gift that keeps on giving. After all, barbecues and socially distant hangouts won't be going out of style anytime soon.
That said, whether you have recently moved somewhere with outdoor access or are feeling some serious design fatigue, you might be looking to spruce up your nature-filled nook. To help, we've pored through the archives for the best balcony ideas. From eye-catching outdoor furniture to clever layouts, one thing's for sure: These design strategies will bring some sunshine to your space.
Advertisement – Continue Reading Below
1
Go au Natural
Turn your balcony into an extension of the beautiful nature around you with outdoor furniture swathed in earthy tones. In this Manhattan penthouse, designers Christine and John Gachot evoked the great outdoors with custom chairs, a Blu Dot table, and a Charlotte Perriand stool from Cassina.
2
Stick with a Serene Color Scheme
Anyone who wants to transform their balcony into a serene sanctuary in the sky will find a lot to love about this Miami getaway by Lee F. Mindel. Here, the designer sprung for modern furniture from RH, Restoration Hardware, but stuck with a versatile, neutral palette.
3
Main Course Marvel
Dinner alfresco, anyone? When tasked with decorating a Maui retreat for a kitesurfer, Martyn Lawrence Bullard turned the intimate balcony into an outdoor dining room. The space features a table from Bananas & Hammocks, chairs upholstered in a Peter Dunham fabric, and tableware from Pottery Barn. Pendants by Paul Marra complete the look.
4
The Tree Treatment
If you want to feel a little closer to mother nature, consider adding some lush greenery to your outdoor space. This home in Capri masters the look with a custom table—complete with a strategically placed cutout—and chairs from Gae Aulenti.
5
Pared-Back Plants
To bring your plant collection to new heights—literally—take a cue from Mark Grattan's home in Mexico City. The furniture designer keeps his outdoor space relatively simple, but the suspended plant offers a fun finishing touch.
6
Embrace the View
Looking for a quick and easy way to refresh your balcony? Rework the layout to have your furniture facing Mother Nature herself. (Yes, even if your view isn't as iconic as the Colosseum.) Architect duo Alvisi Kirimoto filled this wanderlust-inducing space with a Victoria Episcopo cocktail table and chairs by Maarten Baas.
7
Double Down on Your Personal Style
As this vibrant balcony in this Mumbai apartment proves, your outdoor space should be a direct reflection of your interior design taste. Owners Srila Chatterjee and Mahesh Mathai focused on the small details, such as the outdoor table engraved with Arabic calligraphy.
8
Keep It Simple
Working with a bite-size balcony? Keep your furniture to a minimum. The Beit Trad guesthouse in Lebanon features a simple chair and small table from Artisans du Liban et d'Orient.
10
Binge-Worthy Balcony
When you think of a well-appointed balcony, you might envision a space that's perfect for outdoor dinner parties and cocktails alfresco. But it can be your go-to place for downtime, too. Here, designer Harry Heissmann mounted a flat screen and sound bar to this balcony's stone-clad hearth, making it the perfect place to catch up on your favorite shows.
11
Go for the Bold
A few strategic pops of color can transform a sterile balcony into the coolest part of the house. Let this Johannesburg-based space show you how it's done.
12
High-Contrast Concept
What's black, white, and insanely chic all over? The balcony Homepolish designer Jae Joo schemed up for a client on Manhattan's Lower East Side. The high-contrast color palette creates ample drama, while the wicker accents keep the space from feeling sparse.
14
Fancify Your Floors
If you want to refresh your balcony, add some trim tiles to the mix. Bill Brockschmidt's outdoor space is fitted with tiles from Gela, Italy, plus a wrought-iron chair from Emu.
15
Beautify with a Bistro Set
What better way to start a day than enjoying some java on your secluded balcony? For a decorating idea that bridges the gap between form and function, add a bistro set as Studio Peregalli did here.
16
Mimic Your Rails
For a balcony that's easy on the eyes, purchase furniture with the same look and feel as your balcony's railings. In this Palm Beach apartment, angular white furniture pairs nicely with the sleek, glass barriers.
This content is created and maintained by a third party, and imported onto this page to help users provide their email addresses. You may be able to find more information about this and similar content at piano.io
Advertisement – Continue Reading Below