The joy of coming home to a professionally cleaned house may not be priceless, but it's close. While you were working, walking with a neighbor, playing with your kids or reading a book, Maid Perfect was intent on removing shower scum, forgotten dust bunnies and all the life-prints that stick everywhere in your house. Owners Drew and Tonya Freemantle want you to leave the deep cleaning to them while you go about the rest of your life.
Houses are in a constant state of entropy. That means that even as you are putting away the furniture polish, dust particles are falling out of the air and repopulating every surface. "We don't live in a museum," reminds my husband. People live here, I know. Nevertheless, a kitchen with all the food spots vanished and vacuum lines on the carpets speak deeply to my pure happiness. I know it's transient, but I enjoy it thoroughly.
Maid Perfect has been working in the businesses and homes in our community for over 20 years. "Anyone can clean great once, but to clean great consistently is what is truly important," says Drew. Tonya has been in the business even longer. After working for others, together they opened their own company. Drew's education in computer science translates to cleaning with an eye for details and systems that work efficiently. For example, he and one of his team members come to your house for two hours. Those four hours of work time would take the homeowner much longer. You'll double back on yourself, get distracted and get distracted again. I'd rather be doing something else. In truth, I don't mind touch-up cleaning but to go end to end, top to bottom in one swoop through the whole house? Not likely.
Here's another bonus. "We are trained to look for things that people miss," explains Drew. You live with certain things in your house and don't notice after a while. They move through your house or apartment with a plan. The same team usually comes back to your house, so they get to know you. They remember the details.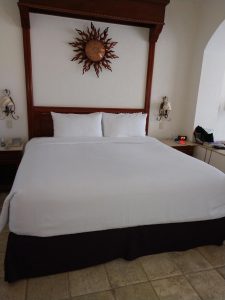 "You don't have lot of control of things," muses Drew about life in general. Putting your house in order can provide a time of peace and calm. It gives you a clean slate. Ironically, knowing your house cleaner is coming the next day inspires a bit of tidying up – like hanging up clothes or putting things away. You still leave the cleaning to Maid Perfect. Then you have the time and energy to spend with your children or grandchildren doing an activity that doesn't involve a vacuum cleaner.
"We love our clients," says Drew. They have cleaned people's houses, cleaned up after they move and cleaned their new home to be move-in ready. "I like making people happy," Drew adds. People have interesting stories and lives. Drew has seen his customers' children grow up.
My kids have grown up and moved away. My husband and I are definitely tidy, and we don't have a fulltime pet. Yet I am continually astonished at the dust that accumulates virtually overnight and how the kitchen looks like people are cooking all day long. Having that regular, professional cleaning for me is psychologically uplifting. Not to mention I was having way more fun out in the kayak!
The Freemantle's believe that their passion for their work is an essential ingredient to the satisfaction of their customers. "Sometimes we tip-toe down the steps as we leave to not leave any footprints," says Drew. Maid Perfect also does janitorial services for offices and cleans windows. You can contact them for an estimate or look online for a list of services. If you are looking for a few tips on deep cleaning a microwave or controlling allergens in your home, there's a host of articles on the website.
Maid Perfect can clean for events, remodels, new construction, homes and offices. Call Maid Perfect for services when you are moving in or moving out, and simply to maintain what you have. Maid Perfect does windows, too. Give clean a chance! You can contact Maid Perfect at 360.402.6248 or by visiting their website.
If you are interested in becoming part of the Maid Perfect Team, please contact Drew via the website.
Sponsored