Whether you are working from home full time post-pandemic, or splitting your time between your business office and commuting as far as your spare room, it's vital that your work space is not only comfortable and inviting, but also motivational. Let's face it – an unorganised and cluttered work space is not going to inspire your best work each day.
This was precisely the dilemma facing interior designer Lou Wolfenden, whose oddly shaped home office was so chaotic due to a lack of storage that the thought of inviting clients in for a meeting filled her with fear. Fortunately for Lou, the space was flooded with lovely natural light thanks to a rooflight and picture window overlooking the garden – so it was simply a case of tackling the clutter with some refined storage and restyling the space with an elegant colour scheme to make it client-ready. 
If you are planning a home makeover like Lou's, we have masses of ideas and helpful advice on what to do and where to start in our house renovation piece.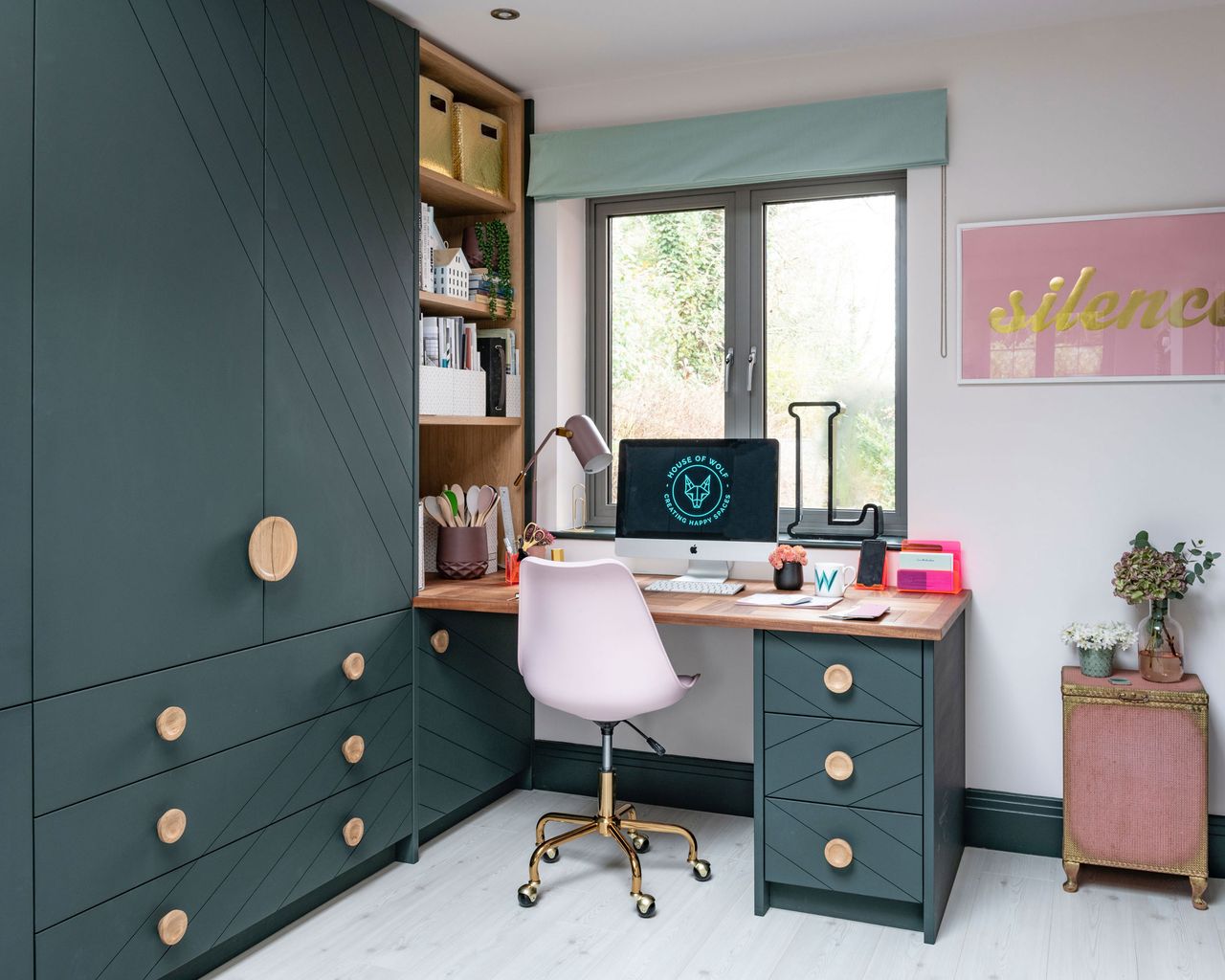 Profile
The owners Interior designer Lou Wolfenden (@house_of_wolf_interiors; house-of-wolf.com), her husband, Tom, who works in finance, and their three children, Edie, Bas and Otto
The property An extended six-bed 1960s detached house in Beaconsfield, Buckinghamshire
Total project cost £5,000
'I needed the room to be multipurpose. It had to have efficient, practical storage that would hide away all my design samples and client project files, yet allow me to access them quickly and easily. Secondly, it had to have a separate seating area away from my desk, where I could invite clients to discuss projects in a comfortable and relaxed setting, as well as give me another spot to retreat to other than at my desk. Finally, I wanted to create an easy-to-manage storage cupboard for my ever-growing collection of ribbons and wrappings. I have a real passion for them!'
'Three years ago, we embarked on a huge year-long renovation project that saw our home go from a tired, unloved 1960s property to a six-bedroom contemporary family home.The build included this new home office, built at an angle to maximise the boundary; we can't access the garden from this side of the house, so the room is a peculiar triangle shape. As a result, it proved really hard to find storage to fit the odd-shaped walls, and most of my interior design samples and work files sat in boxes on the floor. I also wasn't happy with the position of the desk in the middle of the room with seating for a client opposite my desk; it felt too confrontational for my relaxed way of working. Fortunately, the room has a wonderful window overlooking the garden and I felt I would prefer my desk positioned here to enjoy the greenery. I get so inspired by watching the changing seasons.'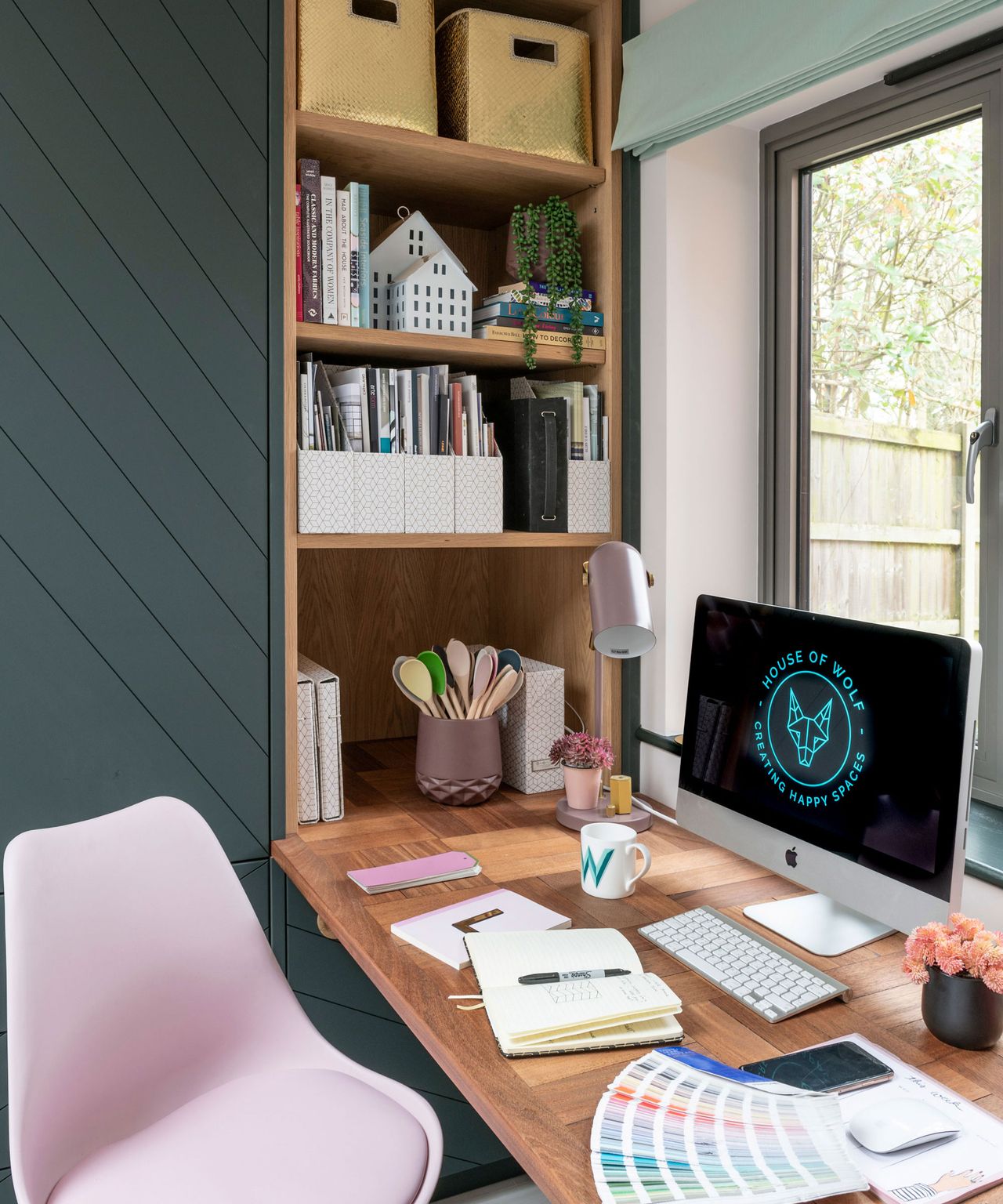 'Back in the days of our house renovation, I asked the builders to make me some large alcoves in here as there is a chimney breast the other side of the wall, so these were an obvious spot for fitted cupboards. However, building cupboards on the opposite wall was going to be more challenging due to the awkward angles. Luckily, I'd already worked with a truly talented joiner, Gary, on other bespoke storage solutions around our home, so I asked him to help again. He cleverly designed the cupboards to graduate and become wider to follow the angled walls, and even added triangular drawers that made the most of every centimetre. I had a clear idea that I wanted a chevron design on the doors, then Gary came up with the idea for the rounded handles. The result is a stunning run of fitted cupboards that gives the illusion of a sleek, straight room.'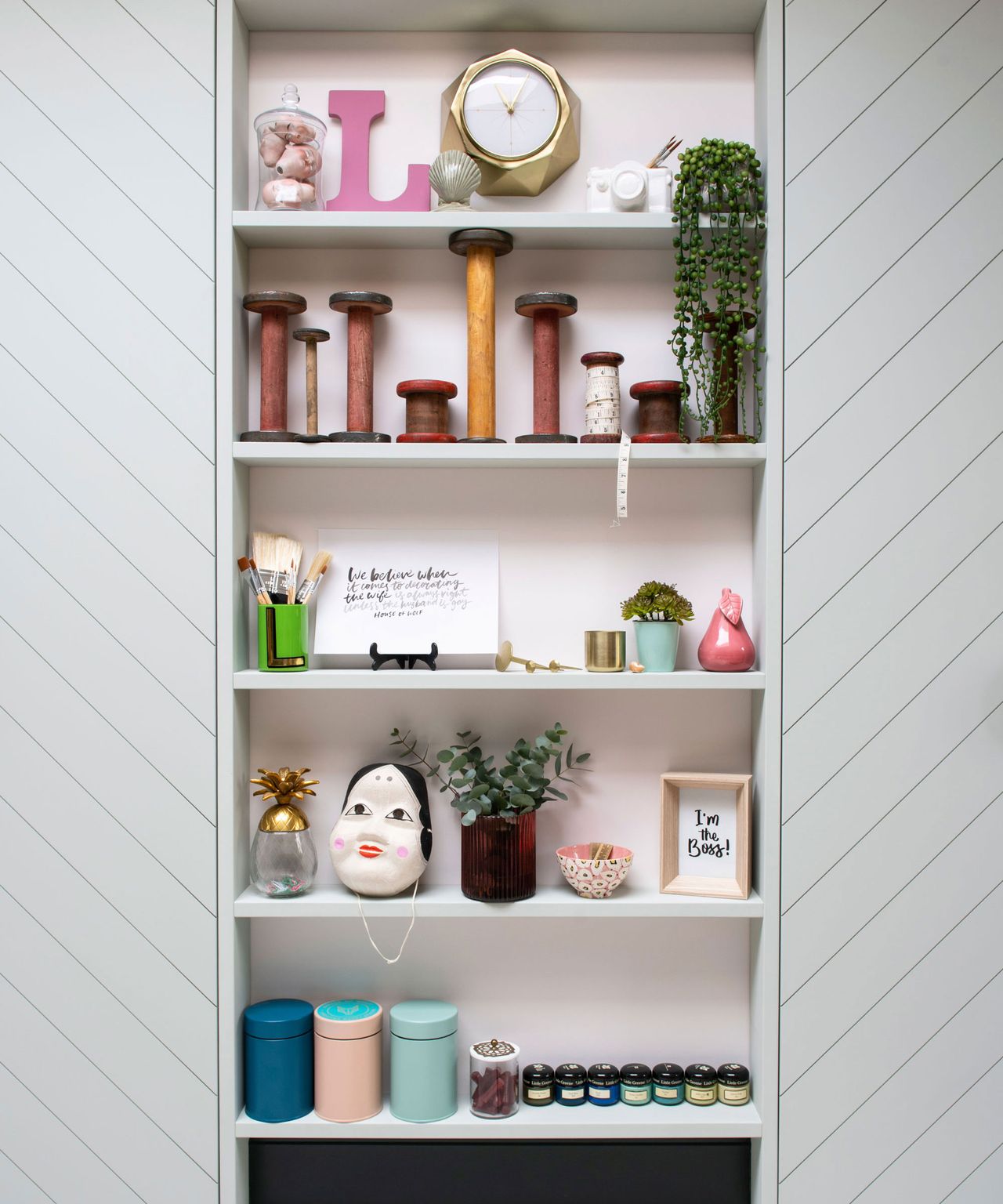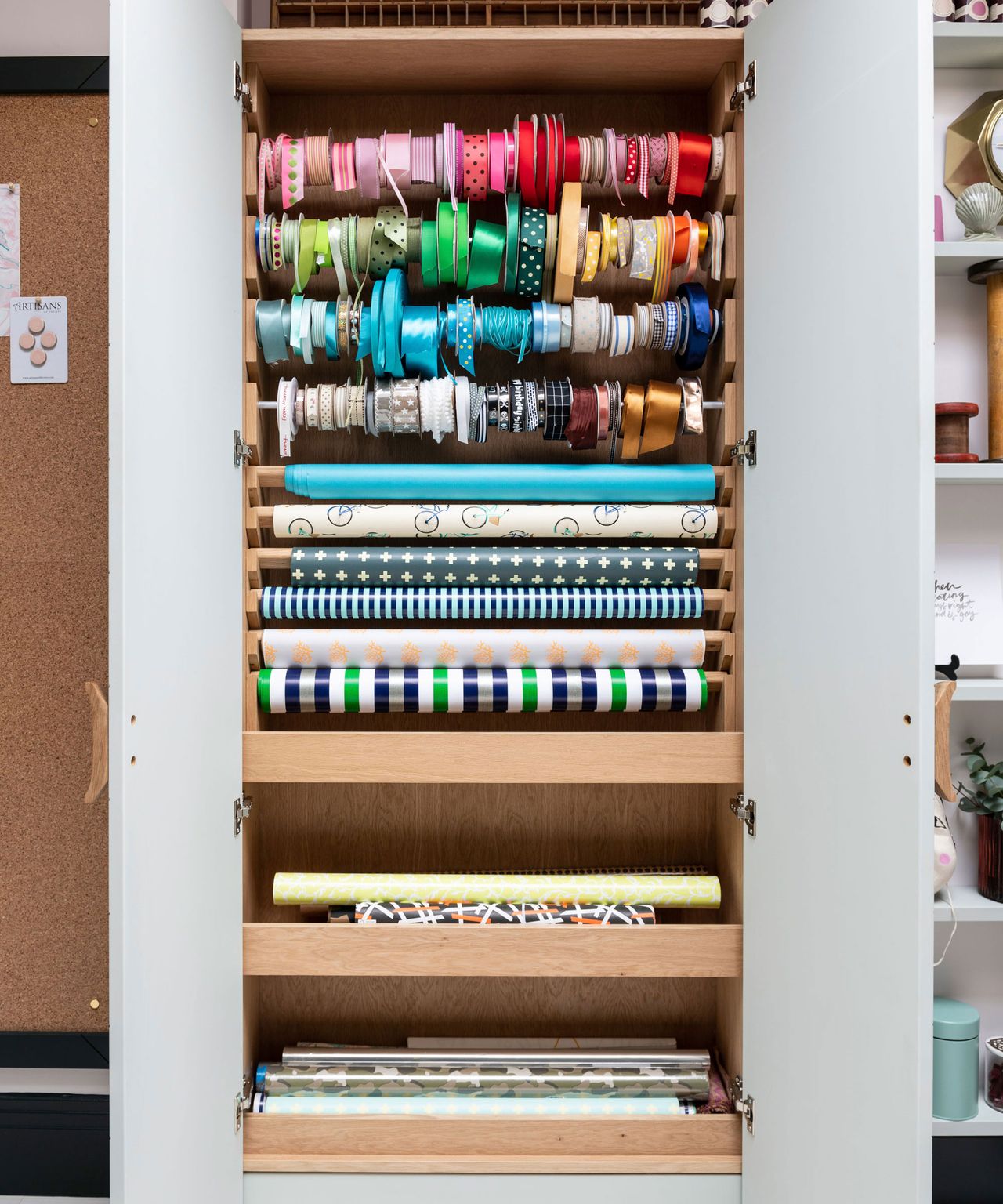 'With my desk overlooking the garden, I wanted to play on the natural connection, so chose the fabulous mural to create a statement behind the seating area. The teal in the pattern connects with my brand identity, which also features a similar shade. I adore how the wallpaper works perfectly with my favourite Farrow & Ball shade, Studio Green. I painted the cupboards opposite the door in it for impact, along the skirting and on the entrance door. I chose a more tranquil green on the opposite cupboards and shelves to ensure the room stayed bright and airy.'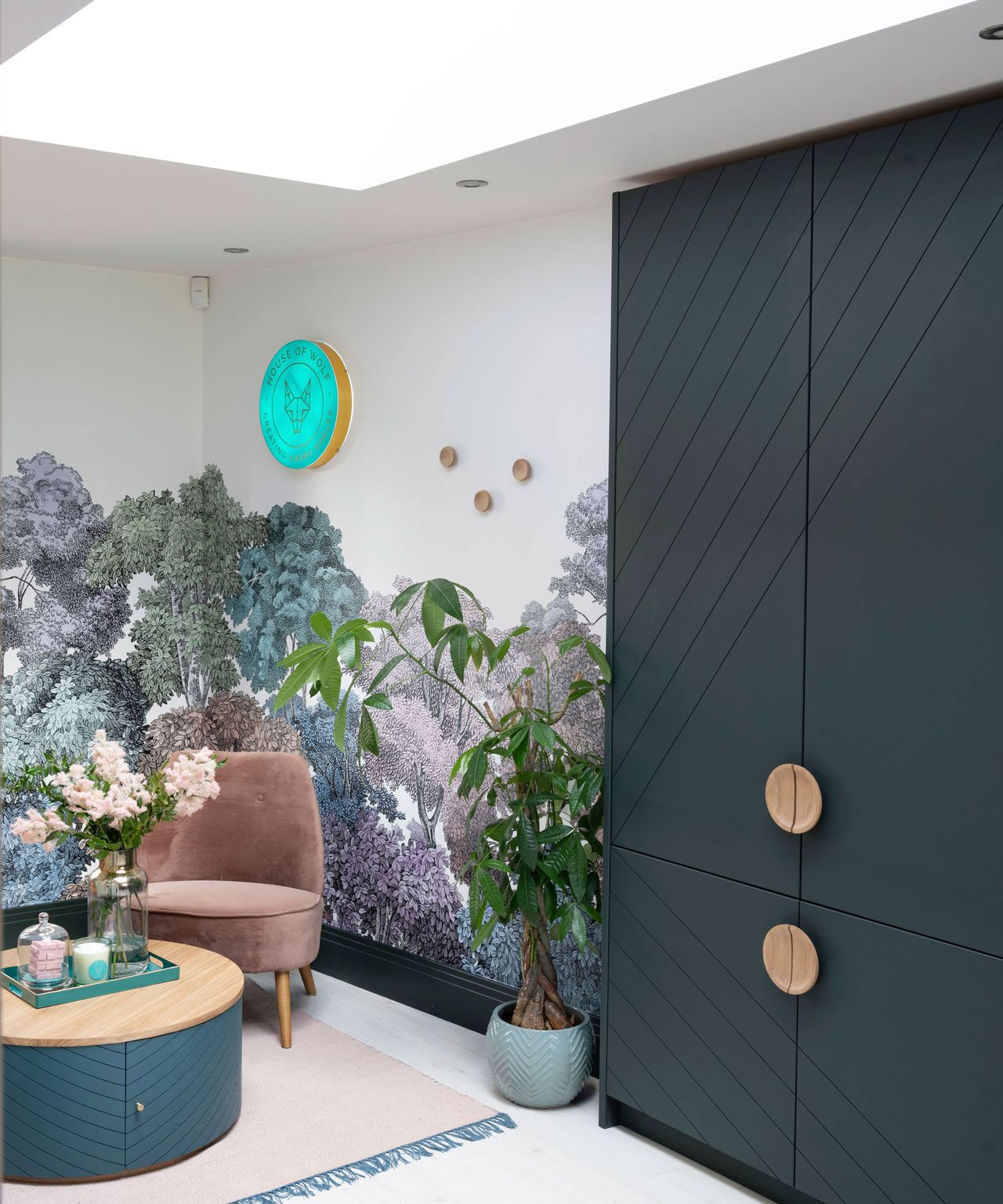 'When it came to moving my files and samples back into the room, I applied the William Morris mantra and only kept items that were either useful or simply beautiful. As I love labelling the jars in my kitchen pantry to stay organised, I used the same technique to organise my samples cupboard, and now have clearly labelled storage boxes that are easy to navigate. Having a rightful storage place for every item makes it so simple and quick to tidy everything away, even if I do have wonderful cupboards that hide a multitude of sins. The most successful storage solution has to be the ribbon cupboards; it's so pleasing to see all my wrapping and ribbons lined up in a colour-coordinated pattern.'