This year marks the 15th
anniversary of Gary's
Plumbing. To help mark the occasion, WhatcomTalk sat down with Mary
Gibb, Gary's wife and the co-owner of the business, learn how they landed in
Whatcom and built their company, what keeps them and their team busy now—and
what the future has in store.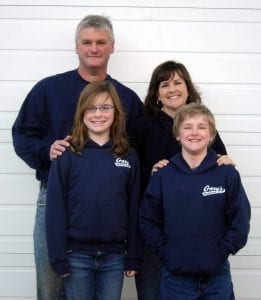 The couple met while living in
the Denver, Colorado, area, but all that changed after Gary paid a visit to
Seattle. "A business opportunity brought him out here, and it wasn't going to
pan out," Mary remembers. "But Gary looked around Seattle, and he really liked
it." It wasn't hard for him to make the visit permanent. "There's such a need
for people who have skills in the trades, so he was able to get a job in a few
minutes. He worked in Seattle for about nine months as we planned the wedding,
and he came back to Denver and we got married."
Once the new couple had moved
to Seattle, it was a short trip to discovering Bellingham, but they made it in
a fairly unusual way. "Gary played lacrosse all through high school and he met
up with some people—including a lot of Western alumni—that were starting a
lacrosse team," says Gibb. "Since a lot of them lived in Bellingham, they had
parties and games up there, and Gary thought Bellingham was so much nicer than
Seattle."
The couple has called
Bellingham home for the last 32 years, and started their family here 23 years
ago, when Mary gave birth to twins. At the time, Gary kept busy working for a
local plumber, but came to feel it was time to step out on his own.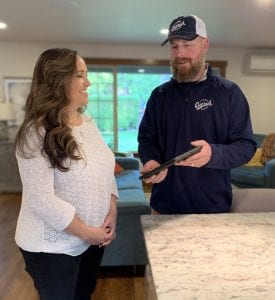 It wasn't their intention to
grow their company as large as they have, but Mary and Gary aren't complaining.
"We started with one truck, and soon the phone would ring and ring and ring,
because everybody knew how skilled Gary was. People wanted to come work for
Gary," Mary says.
Once they hired help, the
couple became serious about managing their growth. "We try to do good by our
employees, and then that translates into them doing a great job for the
customer. It's a way of treating people with respect, and it becomes a
culture—a team culture, and a culture of improvement."
As their family grew, it just seemed
natural to bring their children into the business, as well. "We've always been
team oriented, so the kids always came into the shop," says Mary. "Will was
taking some courses and needed a job, so he started filling in at the shop,
then running parts, and that position grew for him. Sarah started out filling
in on phones, and she's become really skilled, learning all the aspects of the
business."
Family and staff being well
taken care of, the couple looked next to the community. "Throughout COVID, a
lot of people were worried, and we started thinking about how Gary's could
help. We developed a program called Gary's Healthy Home. Customers can get
discounts and products, like an air scrubber that can kill viruses on
surfaces," Mary says. "People want things that will help them and their family
live a healthier lifestyle, and we can offer that through this program."
They also noticed that another
section of their clients were suffering during the pandemic, and worried about
opening up again. "It's bad enough that they had to shut down, but what's even
more terrible is when they're trying to open back up and their plumbing has
broken, or something like that," says Mary. "We let lots of restaurant owners
know we were there to support them, and we gave free services because we knew
the pain they were going through. We wanted to help get them back on their
feet."
A local non-profit has also
long struck a chord with the Gary's crew. Brigadoon Service Dogs
operates a program in which service dogs live with, and are trained by,
incarcerated veterans. "What a thing: You serve your country, you wind up with
PTSD, and you make some kind of mistake," Mary says. "But maybe we can get back
to their original idea of service. By training the dogs, they know they're
helping a brother or a sister. We've developed a supporting relationship over
the years, whether that's helping them with their plumbing and heating, or
donating to an auction or volunteering."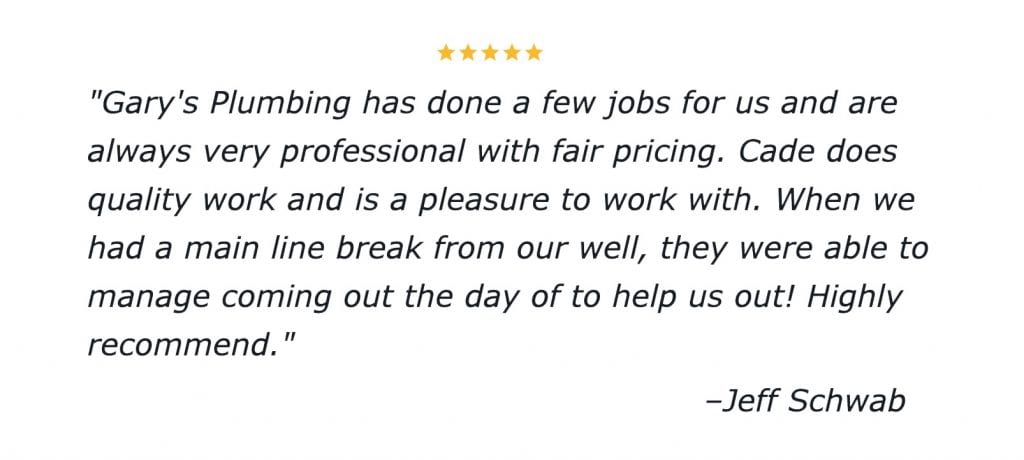 And Gary's isn't finished growing yet. "We've developed a new website that's really looking fresh, so we're really excited. We have some fun commercials coming out, and we have a podcast coming out, too, so that's pretty exciting," Gibb says. It's clear that Gary's is committed to continuing to serve both their clients—and their community.
Sponsored